Bolton Wedding Limos For Hire
We have a great choice of stretched limousines for hire for your wedding and for any special occasions before or after the 'big day'! Share a ride with your friends on your hen night or sit back and relax as we drive you to the airport for the start of your honeymoon! We offer big savings on multiple journey bookings so why not see what we can do for you - complete the limo hire enquiry form and we'll get back to you shortly with a hot deal!
The exact features and specifications of each limousine will vary so if you have certain requirements concerning your hire booking please contact us directly and we'll be pleased to help.
Step Inside Our Limos For A Great Party!
Here are some of the funky features you'll find aboard our extensive range of stretched limousines:
Comfortable leather seating - with seatbelts for all passengers
Built in bar area with ice buckets, cool lighting and champagne flutes and glass ware for all passengers
Ceiling with mirrors and starlights
Multi colour lighting for nightclub feeling
Flatscreen TV units with DVD player
Tinted windows and privacy divider
CD player and top of the range sound system
Air conditoning and climate control
COIF (Certificate of Initial Fitness) for 4x4 limousines - a VOSA requirement that sets the standard of safe, modern limos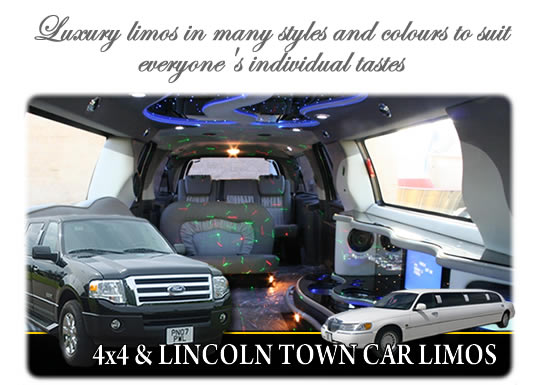 White Hummer With 16 Seats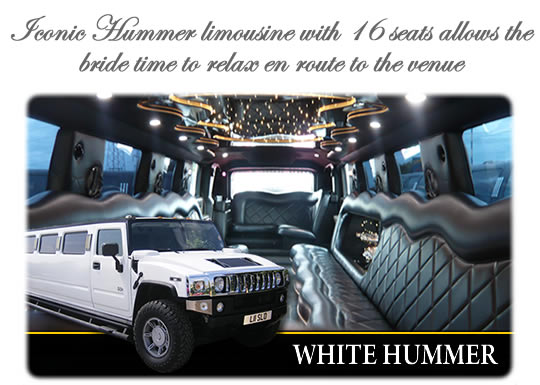 .
COIF legal Hummer in brilliant white, with 16 seats and COIF certificate. Take a ride in this incredible limousine!
Chrysler 300 'Baby Bentley' 8 Seater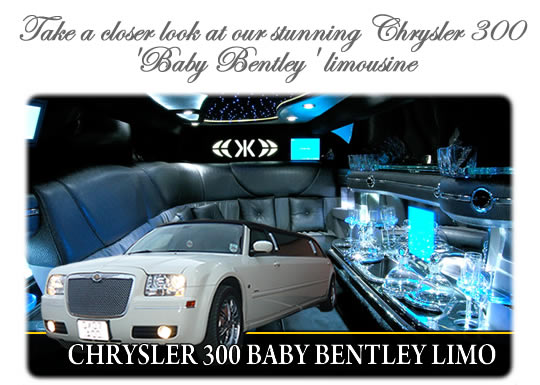 Amazing interior (one of the best in the UK!) with 8 seats available. Includes neon lighting, charcoal seating and cool bar area!
Bolton Limousine List
Our full range of stretched limousines in Bolton and Lancashire includes:
White Chrysler 300 'Baby Bentley' licensed for 8 seats passengers
White Lincoln Town Car licensed for 8 passengers
Pink Lincoln Town Car licensed for 8 passengers
Pink 4x4 licensed for 14 passengers
Silver Lincoln Navigator licensed for 12 passengers
Black Ford 4x4 licensed for 12 passengers
Silver Ford 4x4 licensed for 12 passengers
White Ford 4x4 licensed for 14 passengers
White Lincoln 4x4 licensed for 12 passengers
Call us on 0800 197 6579 or 01204 522 422 or fill out the wedding car enquiry form to receive a quick reply online.