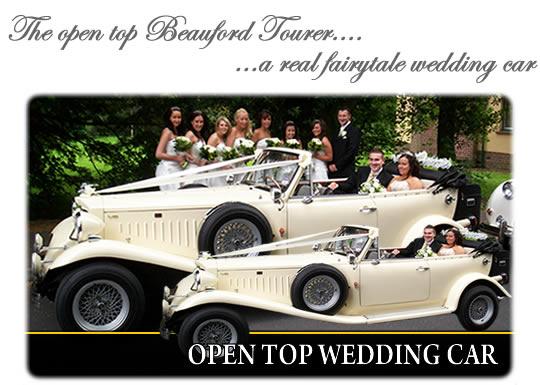 Beauford Tourer Open Top Wedding Car
The Beauford Tourer is the quintessential open top wedding car. The Beauford combines modern levels of reliability and comfort with retro style looks, based on a 1930s roadster with a retractable roof that can be deployed should the weather turn sour.
To many brides our Beauford is considered the 'fairytale' wedding car, with its cream livery, times past styling and option of travelling with the hood down! Are you taking care of travel arrangements for others travelling to and from the wedding? Throw us the challenge and see how affordable we can be for multiple vehicle bookings - book a limousine for the bridesmaids or a Mercedes saloon for the bride's parents. Complete the enquiry form with your requirements and see what we can do!
For bookings and rates please call us on 0800 197 6579 or 01204 522 422, or fill out the wedding car enquiry form to send a message online.